This is an archived article and the information in the article may be outdated. Please look at the time stamp on the story to see when it was last updated.
The Lake Fire burning in rugged wilderness south of Big Bear Lake grew by more than 4,200 acres overnight Friday, and a much smaller fire burning close by in the San Bernardino National Forest was deemed the result of arson.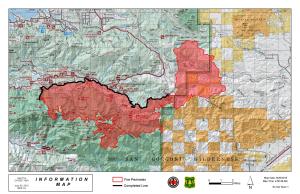 Nine days after the Lake Fire started near Barton Flats, it had consumed 30,526 acres, or more than 47 square miles, according to Friday evening's fire update. The fire was 20 percent contained.
Meanwhile, the 100-acre Sterling Fire, which broke out Thursday night about 18 miles west of the ignition point of the Lake Fire, was 75 percent contained on Friday afternoon.
The fire was caused by arson, according to a statement from San Bernardino City Fire Department Capt. Mike Arvizo. Arson investigators were on scene, he said.
Nearly 7,400 structures were threatened by the Lake Fire, which was most active overnight near the Heartbreak Ridge portion of the fire, which is along the northeast tip of the fire perimeter.
The flames were expected to be active again in the Rainbow and West Pipes Canyon area on Friday, when it was expected to be 89 to 94 degrees with a relative humidity of 9 to 14 percent.
There was a 20 percent chance of showers and thunderstorms in the area on Sunday, and a 40 percent chance on Monday, according to the National Weather Service.
Mandatory evacuations were still in effect for areas east of Angelus Oaks, Burns Canyon and Rimrock. Pioneertown was under a voluntary evacuation.
The communities of Lake Williams, Lake Erwin and Lake Baldwin were asked to be alert to possible future evacuations.
State Route 38 and several local roads were closed, as were multiple hiking trails and campgrounds.
On Wednesday evening, a drone interrupted aerial firefighting efforts, and the fire spread significantly overnight, a San Bernardino National Forest aviation officer said Thursday. Two drones also hampered firefighting operations during efforts on the Sterling Fire, authorities said.
The firefight cost an estimated $17.6 million as of Friday. About 2,116 firefighters and support personnel were working the Lake Fire.
The cause of the fire remained under investigation, according to a spokeswoman for the San Bernardino National Forest.
https://twitter.com/SBCityFire/status/614335456847642624