This is an archived article and the information in the article may be outdated. Please look at the time stamp on the story to see when it was last updated.
A rapidly growing wildfire in the San Bernardino Mountains south of Big Bear Lake burned just over 15.6 square miles and prompted mandatory evacuations on Thursday, authorities said.
The so-called "Lake Fire" was reported Wednesday around 4 p.m. and was burning east of Camp De Benneville Pines south of Jenks Lane Road (map), according to the InciWeb, a multi-agency website that provides updated information on large fires on federal land.
Smoke was towering over the San Bernardino National Forest's Barton Flats Visitor Center, where a fire command post was set up.
"It's extremely steep, treacherous terrain up there. It's up in the wilderness. There's lots of down and dead fuel, vegetation," said Brian Grant of the U.S. Forest Service. "There's a lot of fire up there."
As of 10 p.m. Thursday, the blaze had grown to 10,000 acres and remained just 5 percent contained, the site stated.
The flames, which were largely fueled by timber and grass, were spreading at a moderate-to-rapid rate, according to InciWeb.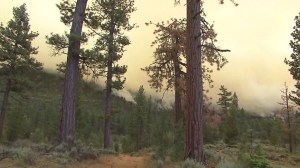 Grant said there were no significant fires on record for the area, so there was a lot of fuel available.
The timber fire was particularly challenging for firefighters, who were faced with the threat of entrapment, said Chon Bribiescas of the U.S. Forest Service.
San Bernardino County fire crews described the blaze's behavior as "erratic" and "extreme." The fire grew from 100 to 1,000 acres overnight, then to 1,500 by mid-morning. The acreage estimate then quintupled in about three hours.
Evacuations were ordered for 20 to 25 residences off of Rainbow Lane in Onyx Summit, the San Bernardino County Sheriff's Department tweeted.
Evacuations were also in effect for several camps, including Camp de Benneville Pines, Camp Ta Ta Pochon, Camp Alpine Meadows, Camp Edwards and Camp Tulakes. Nearly 200 people were impacted by the evacuation orders, according to fire officials.
Children from the summer camps were taken to Citrus Valley High School in Redlands, where they were reunited with their parents.
Structures were also threatened in the area, according to InciWeb.
State Route 38 between Angelus Oaks and Lake Williams was shut down, as was Jenks Lake Road. Motorists were advised to use State Routes 330 and 18 as alternates.
Hiking trails in the San Gorgonio Wildnerness were also closed, and the Pacific Coast Trail was closed from Whitewater Preserve to Onyx Peak.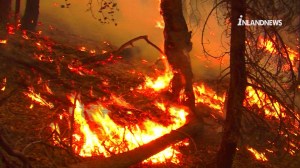 About 1,220 firefighters were battling the flames by air and by land. Resources devoted to the firefight included 88 engines, two air tankers, 10 helicopters, one air attack plane, 28 crews, three water tenders and one dozer.
The blaze began in the midst of a Southern California heat wave which brought hot, dry conditions to the area and prompted the National Weather Service to warn of elevated high fire damage in interior mountain, valley and desert areas.
Temperatures were expected to be hottest Friday through Sunday, when they were forecast to reach into the 90s and low 100s in valley and lower mountain elevations, according to the weather service.
The South Coast Air Quality Management District issued a smoke advisory for the San Bernardino Mountains, instructing people to avoid vigorous activity in the area, among other precautions.
As of Thursday evening, no injuries had been reported in connection with the wildfire.
The cause of the Lake Fire was under investigation.
More Video: