This is an archived article and the information in the article may be outdated. Please look at the time stamp on the story to see when it was last updated.
A Lancaster couple pleaded not guilty to child abuse and false imprisonment charges Thursday for allegedly forcing their children to live in squalid conditions, the Los Angeles County District Attorney's Office announced Friday.
Titus Chidi Ebubechukwu and Mary Nkiruka Ebubechukwu were charged with three felony counts of child abuse and one felony count of false imprisonment by violence, according to a news release from the DA's office.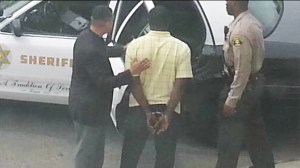 The investigation began earlier this month when the couple's 4-year-old son was found walking by himself several blocks away from the family's home in the 43000 block of Chaparral Drive, Deputy District Attorney Theodore Swanson said.
The child was found by a neighbor who told authorities that the boy appeared disoriented and was wearing over-sized shoes, The AV Times reported.
The couple was not home when Los Angeles County Sheriff's deputies went to talk to them, but their 10-year-old daughter was inside the house, the release stated. She was found in a room that was locked with a chain from the outside, Swanson said.
"There was a bucket in the room that the girl had to use when she needed to go to the bathroom," Swanson said.
The boy and his sister were taken into protective custody along with two other siblings, sheriff's officials told the AV Times.
Neighbors said the couple was from Nigeria and had lived in the home for nine years.
They were scheduled to be back in court on June 9.
If convicted as charged, the couple faced a maximum of eight years and eight months in state prison.