This is an archived article and the information in the article may be outdated. Please look at the time stamp on the story to see when it was last updated.
A gas station worker in Lancaster busted the tail lights of a man's truck when she believed he had taken too long to move the pickup, according to a woman who recorded video of the incident, and the station's manager said the worker was arrested.
The altercation took place Tuesday afternoon at a Valero station at Fifth Street East and East Avenue K, Monet Dansereau told KTLA on Wednesday.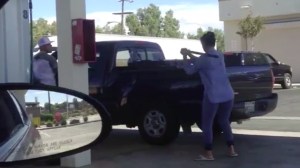 In the 1 minute, 13 second video she recorded, a man is seen next to a black Toyota Tacoma stopped at a gas pump. A woman with her back to the camera stands next to him, counting out loud up to 10.
Then, she takes an object resembling a bat and begins swinging at the back of the truck.
"Go right now," she appears to say to the motorist. "I told you to go. I told you two times."
The man was getting gas, cleaning his truck and texting when the worker came outside and told him to leave, Dansereau said. He said he would leave when he was done.
On Wednesday, Dansereau wrote on Facebook that the man had been at the station for three hours. The gas station manager told KTLA the man was there for well over an hour.
Dansereau said the worker was wielding a hard plastic piece of pipe. She began recording the second time the worker came out to talk to the pickup driver, she said.
As the video continues, the worker and the driver argue. He never attempts to stop her from damaging his vehicle.
"I'm not doing anything illegal. I'm here to buy some freaking gas," he says.
When he says he won't leave and is calling police, the worker bashes his left taillight out, hitting the truck six times. She walks away.
"I told you to move and you do not move," she can be heard saying. "The customer is not right."
It's not clear in what capacity the woman works for the gas station.
Her manager said Wednesday that she was eventually arrested on suspicion of felony vandalism and was in jail overnight. The station posted her $20,000 bail, and she was expected to return to work Wednesday night, the manager said.
The Lancaster Station of the Los Angeles County Sheriff's Department did not return a call for information on the incident.
KTLA's Jennifer Thang contributed to this article.