This is an archived article and the information in the article may be outdated. Please look at the time stamp on the story to see when it was last updated.
A Lancaster man was arrested after graphic and disturbing cellphone video allegedly captured him publicly abusing a dog in a residential area, authorities said on Saturday.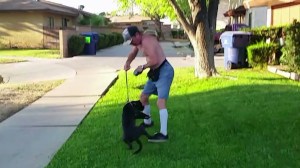 The incident was captured on video by Lindsey Cooks, who told KTLA he was at a bus station with his son when he saw the dog being abused and started filming.
Video showed a shirtless man yanking the dog up in the air by the leash, prompting a yelp from the pet. He can then be seen throwing the dog in the middle of the street.
The dog, who appeared to hit the pavement hard, immediately got up and scurried away from the man, the video showed.
Cooks said that when he asked the man to stop, he began hurling racial slurs at him.
Cooks then called the Los Angeles County Sheriff's Department's Lancaster Station to report the abuse.
"I'm a human being, you know?" Cooks said. "I couldn't see not even a human being being treated like that, especially a dog that can't defend itself, a little dog, so I had to do something."
Deputies responded to the scene and arrested the man, identified as 54-year-old Robert Martin, on suspicion of felony animal cruelty, according to sheriff's Lt. Slade Carrizosa.
The dog was picked up by Animal Control officers, who examined it and determined that it was not seriously hurt, neighbors told KTLA.
The dog was being held at Los Angeles County Animal Care office in Lancaster.
KTLA's Feven Kiflegiorgis contributed to this report.