This is an archived article and the information in the article may be outdated. Please look at the time stamp on the story to see when it was last updated.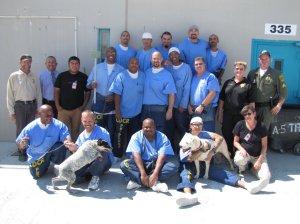 A Lancaster prison is providing shelter for rescue animals as the Sand fire continues to burn in the Santa Clarita Valley.
The State Prison-Los Angeles County is watching over nearly 50 deaf dogs from the Deaf Dog Rescue of America in Acton, according to the California Department of Corrections and Rehabilitation.
The rescue said it struggled to find a place that would be able to accept all of the dogs, which are now being cared for by inmates.
"It wasn't mandatory, nor did we have impending flames licking at our heels," the rescue wrote on Facebook. "We decided to be better safe than sorry because we love our dogs here. They come first, always."
Click here to read the full story on LATimes.com.