This is an archived article and the information in the article may be outdated. Please look at the time stamp on the story to see when it was last updated.
LAPD officials on Thursday announced temporary parking restrictions for the Dodgers postseason.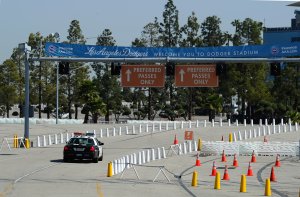 "No parking" signs will be posted on Stadium Way between Scott Road and Academy Road near Dodger Stadium in an effort to avoid congestion and delays, according to the Los Angeles Police Department.
Officers will also be patrolling the area to enforce the no drinking policy in nearby parks and elsewhere in public.
"Everyone in attendance deserves a safe and fun-filled evening of baseball, so please respect the neighborhood and stay safe," LAPD officials said in a news release.
The National League Division Series begins on Friday, when the Dodgers play the Arizona Diamondbacks at Chavez Ravine.