This is an archived article and the information in the article may be outdated. Please look at the time stamp on the story to see when it was last updated.
A suspect has been arrested in the altering of the iconic Hollywood sign on New Year's Day, when someone changed the sign to read "Hollyweed," police announced Monday.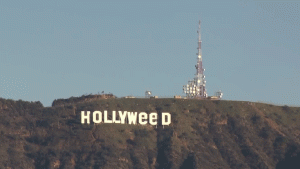 Zachary Cole Fernandez, 30, surrendered to detectives at LAPD's Hollywood Station on Monday, police said in a released statement.
Fernandez was arrested on a misdemeanor charge of trespassing.
The famous Hollywood sign was mysteriously changed on New Year's morning when it read "Hollyweed," for a few hours. Officials said surveillance footage caught a person altering the sign.
The sign was not physically damaged, instead the person behind the prank wrapped letters with tarps which briefly changed the sign's appearance.
Los Angeles Councilman David Ryu said he urged the City Attorney and LAPD to prosecute the case.
"Pranks of this nature deplete the resources of our valuable public safety personnel, in both responding to the prank and in responding to the increased crowds and copycat attempts that these incidents generate," Ryu said in a statement.
Fernandez was released on his own recognizance.
He is scheduled to make his first court appearance on Feb. 15.