This is an archived article and the information in the article may be outdated. Please look at the time stamp on the story to see when it was last updated.
Los Angeles police said they arrested eight people Tuesday morning after protesters blocked downtown streets and refused to leave one intersection as part of a demonstration calling for immigration reform.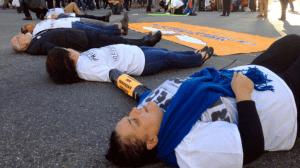 The eight people were lying in the intersection of Temple and Los Angeles streets when they were taken into custody, LAPD Capt. Andy Neiman said. The demonstrators had used "sleeping dragon" devices — plastic tubes — to link their arms and delay police, Neiman said.
Officers assigned to the LAPD's Metropolitan Division ultimately cut away the devices to make the arrests, Neiman said, but no injuries were reported.
Police described the protest, which at one point was estimated to include up to 300 people and stalled traffic on nearby streets, as peaceful. The group dwindled in size throughout the morning, ultimately totaling about 50 people.
Click here to read the full story on LATimes.com.