This is an archived article and the information in the article may be outdated. Please look at the time stamp on the story to see when it was last updated.
LAPD officials have arrested a man accused of kidnapping a woman he had apparently been stalking from a convenience store in Exposition Park while armed with a hammer Wednesday.
The incident was reported about 2:50 p.m. near the intersection of Denker Avenue and Exposition Boulevard, Los Angeles Police officials said in a news release.
Officers were responding to a silent alarm that went off at a convenience store and learned that the man came into the store with a hammer, grabbed the 28-year-old clerk and dragged her into his car as people in the area watched the incident unfold, said Los Angeles Police Detective Gerald Harden.
Surveillance video released by authorities shows the woman being shoved into the suspect's car outside of the store as she tried to escape his grip.
"It was a pretty violent act to do it in broad daylight," Harden said.
The woman was found safe after escaping from the man's car in a North Hollywood cemetery about two hours later. She was able to alert her family and was taken to a hospital. Harden said she appeared to have been hit by the hammer, but she had not been interviewed by detectives and details remained sketchy.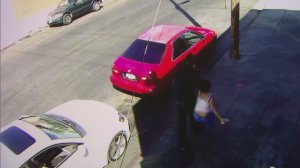 The suspect, Jose Eduardo Gaxiola Caro, 29 was arrested about 9:30 p.m. after a short pursuit. Officers used a stun gun to take him into custody, officials said.
Police had previously released a detailed description of Gaxiola Caro and his car, as well as his license place number.
Though the relationship between Gaxiola Caro and the woman is unclear, police believe the suspect had been following the victim for weeks, trying to figure out where she lives and even sent flowers to the home of a person he thought was related to her, Harden said.
"Obviously he didn't take no for an answer, from what a family member said," the detective said.