This is an archived article and the information in the article may be outdated. Please look at the time stamp on the story to see when it was last updated.
A downtown Los Angeles hit-and-run that left a 23-year-old woman dead remains unsolved two months later, and police on Friday asked for help in the crime.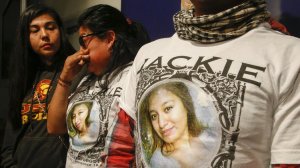 A $50,000 reward is being offered in the Nov. 7, 2016, crash that killed Jacqueline Hernandez.
She was crossing 12th Street near Paloma Street in the Fashion District about 6 p.m. when she was stuck.
Police initially said she was 24 but clarified as at a news conference Friday morning that she was 23. Hernandez was leaving a job interview when she was struck.
Her parents and longtime boyfriend attended the news conference, pleading for help.
"For the person who did it, please turn yourself in," said Hernandez's friend Juan, who became momentarily too emotional to continue.
"We're not mad, we just want answers," he said.
Witnesses did not get the car's license plate number, but surveillance cameras captured video of the car and the crash. The video barely shows the incident.
The driver is believed to be an Asian man around 40 years old, police said. He was driving a dark-colored BMW 4 Series.
Correction: The Los Angeles Times reported Friday morning that the woman had a 5-year-old daughter who was severely injured in the crash, but that information has been removed from the Times' updated story. Police had not said the victim had a child with her, and a line that attributed that information to the Times has been removed from KTLA's story.