This is an archived article and the information in the article may be outdated. Please look at the time stamp on the story to see when it was last updated.
UPDATE: A woman who police thought might have been kidnapped in December in Highland Park was located in good condition on Monday morning, LAPD Officer Rosario Herrera said.
Original story, posted Sunday evening: 
Los Angeles police Sunday asked for the public's help in identifying and verifying the safety of a woman who may have been kidnapped last month in Highland Park.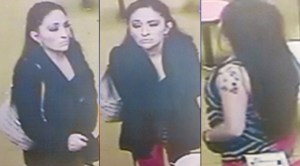 Officers responded shortly after a violent incident occurred in the 5600 block of York Boulevard (map) on the morning of Dec. 20, according to an LAPD news release.
Witnesses told police that a woman was dropped off by a man driving a gray or silver SUV. She then walked into a business, ordered a coffee, sat down and appeared to send text messages or emails from her cellphone.
She had a purse and black coat with her when she left the business at 5:55 a.m. and walked toward Avenue 56, the Police Department said.
"About 46 seconds later, the same SUV pulled alongside her and abruptly stopped. The woman immediately ran back into the business," the release said. "The driver of the SUV followed her into the business, threw her to the ground and dragged the victim outside."
The man and woman then argued for about two minutes before he forced her into the passenger side of the vehicle, according to the LAPD.
Officers searched the area but were unable to find the driver, victim or SUV.
Authorities Sunday released photos of the woman, described as Hispanic, 20 to 30 years old, about 5 feet 4 inches tall, weighing approximately 130 pounds. She has long brown or black hair and a tattoo of what appears to be a hibiscus flower on her left shoulder.
The man is described as Hispanic, 25 to 30 years old, and about 5 feet 10 inches to 6 feet 1 inch tall.
Anyone with information about the incident is asked to call Detective Jeana Franco of the LAPD's Northeast Division at (323) 344-5731.
During non-business hours or on weekends, calls should be directed to 877-527-3247. Anyone wishing to remain anonymous should call Crime Stoppers at 800-222-8477. Tipsters may also contact Crime Stoppers by texting to phone number 274637 (C-R-I-M-E-S on most keypads) with a cellphone. Text messages should begin with the letters "LAPD." Tipsters may also go to LAPDOnline.org, click on "webtips" and follow the prompts.