This is an archived article and the information in the article may be outdated. Please look at the time stamp on the story to see when it was last updated.
Police on Wednesday released surveillance video that allegedly shows three male burglars who stole more than $700,000 worth of personal property from a home in the Beverly Crest neighborhood of L.A.'s Westside.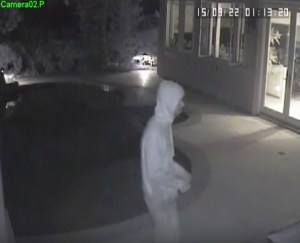 The footage was made public in an effort to identify the individuals, who are suspected of entering the residence in the 9700 block of Wendover Drive (map) on Sept. 29, according to the Los Angeles Police Department.
The burglary began between 7:15 p.m. and 11:30 p.m., when the intruders entered through a window and took items including jewelry, computers and clothing, the LAPD said in a statement.
The burglars were each described as black, between 5 feet 7 inches and 5 feet 10 inches, weighing about 150 pounds, police said.
One had a mustache and was wearing a light-colored sweatshirt and light pants.
Another was wearing a dark- and light-colored hooded sweatshirt and medium-colored pants.
The third person was wearing a light-colored sweatshirt with words written on the chest.
The video appears to show the trio walking through the home's backyard, which includes a pool.
Anyone with information about the burglary was asked to call the LAPD's West Los Angeles burglary detectives at 310-444-1522 or 310-444-1523.