This is an archived article and the information in the article may be outdated. Please look at the time stamp on the story to see when it was last updated.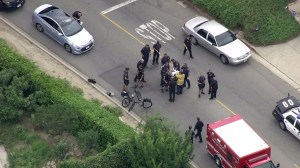 An LAPD bicycle officer was injured after losing control of his bike and falling in Sherman Oaks Wednesday afternoon in what police initially called a "traffic collision."
A report of an injury came in at 3:15 p.m. at Deerhorn Drive and Woodcliff Road (map), according to Bryan Humphrey of the Los Angeles Fire Department.
A bicycle officer was down, according to Office Mike Lopez of the Los Angeles Police Department's Media Relations Section.
Lopez was not immediately able to say what left the officer injured, but the department's Twitter account said the officer was struck in a traffic collision.
Lopez later said that the officer had been one of six bike officers leaving the scene of another incident when he lost control of his bike while traveling downhill on Deerhorn. The officer fell to the ground and lost consciousness for a bit, Lopez said.
Investigators believed he clipped the rear tire of another officer's bike, according to Lopez.
He sustained injuries to his head, arms and knees and was hospitalized.
Aerial video from Sky5 showed the officer being treated on the roadway. The victim appeared to have his head wrapped in gauze before being wheeled into a waiting ambulance.
Multiple other officers were on scene. Three bikes were at the scene, and a silver sedan was stopped in the road nearby.
KTLA's Feven Kiflegiorgis and Nidia Becerra Tijerino contributed to this article.
@LAFD has arrived at scene of downed officer. Cycle officer struck in #trafficcollision. Will provide updates as available @lapdVanNuysDiv

— LAPD HQ (@LAPDHQ) July 1, 2015