This is an archived article and the information in the article may be outdated. Please look at the time stamp on the story to see when it was last updated.
A recent spate of high-profile crimes in L.A.'s Hollywood district has raised concern over safety in the area, a popular destination for tourists and clubgoers.
On June 18, a 23-year-old woman was fatally stabbed near the Hollywood & Highland Center.  A month later, on July 17, a roaming band of robbers targeted local businesses and tourists in a crime spree that was reportedly coordinated on social media. And on Monday, a man was fatally stabbed and four others were injured in separate attacks.
In an interview with KTLA on Thursday, Los Angeles police Chief Charlie Beck talked about crime in Hollywood, the homicide rate in Los Angeles, and an incident in which a woman was ejected from an LAPD patrol car after being taken into custody.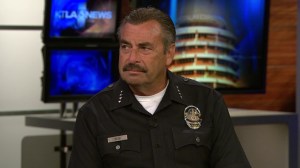 He noted that conflicts occasionally occur among Hollywood nightlifers who decide to take matters into their own hands.
"To combat that, we've greatly increased patrols," he said. "Following the incidents of this Labor Day, we've put in 40 police officers just to work Hollywood and we'll keep them there.
"I do have to say, though, the crime in Hollywood overall – absent these incidents – is down greatly," he said. "Crime in the city is down, and Hollywood is one of the most successful divisions in reducing crime."
Beck acknowledged that one of the incidents in Hollywood on Monday, in which two men were stabbed, was gang-related.
"They had come one of the clubs to party," he said. "We work really closely with the club owners to police those clubs in a way that allows people to enjoy clubs but also makes them a safe as possible."
"I think people can feel safe in Hollywood," he added. "I wouldn't say it if I didn't think it was true."
Interpreting L.A.'s crime statistics
Although violent crime in Los Angele fell 8.3 percent in 2012, homicides increased by 24 percent in July compared to same time period last year.
The statistical spike "doesn't necessarily mean anything," Beck said. "We had a really good July last year and a rough July this year. August last year was difficult, this year was good – I mean, comparatively."
He pointed out that "homicide is still a rare crime in L.A. There's 300 a year — that's too many, but compared to the other hundred thousand crimes that occur it's a small portion."
Beck and other city officials have often touted Los Angeles as "the safest big city in America."
Woman ejected from moving patrol car
Kim Nguyen, a 28-year-old woman who says she was taken into custody by LAPD officers March 17 after a night in Koreatown, was ejected from the moving patrol car in which she was being transported.
She has filed a lawsuit stemming from the incident, which was apparently captured on surveillance video.
"I can't say a lot about it because we're subject to a lawsuit and there is a personnel investigation — has been since the day this happened — ongoing," Beck said. "We're looking into what the officer's actions were – what they should've done, what they didn't do."
According to Nguyen, the officers told her she was being taken into custody on suspicion of public intoxication. She says she does not remember some details about the evening, including how exactly she was ejected from the patrol car.
However, she insists that she could not have opened the car door herself because she was handcuffed at the time.
"Obviously, we transport a hundred thousand people a year in the backs of police cars and they're not supposed to fall out," Beck said. "We have rules and procedures to prevent that. Obviously they were not followed."
Nguyen's attorney provided a video to the Los Angeles Times that he says was recorded by a nearby building's camera. The video appears to show police officers standing over Nguyen as she lies unconscious on the street, her face bloodied.
"Our rules are that the doors be locked and that the person be seatbelted in," Beck said. "I'm not going to comment because it's a personnel matter and I'm the one who adjudicates these things and ascribes a penalty to it, so I have to be real careful about what I say. But I will say that we will look very closely to see if that was done."