This is an archived article and the information in the article may be outdated. Please look at the time stamp on the story to see when it was last updated.
Los Angeles city and county law enforcement, along with the FBI and Muslim community leaders on Monday condemned a vitriolic letter that was sent to multiple California mosques.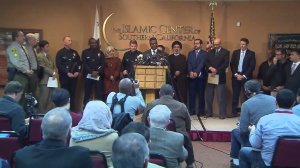 The author addressed the letter "to the children of Satan" and called Muslims "a vile and filthy people."
"There's a new sheriff in town," the letter said, "President Donald Trump."
At a midday news conference, representatives of the Los Angeles Police Department, Los Angeles County Sheriff's Department and the FBI urged anyone who receives such a threatening letter to report it.
"Even if it's not a crime, if it's an incident that delivers hateful rhetoric, it's important for us to learn and understand where that's coming from," said LAPD Deputy Chief Michael Downing. "We are all Americans. … Whether you're Christian, Muslim or Jew, this is our home."
Downing said police consider a hate crime as seriously as a homicide, but he called the letters "hate incidents," not "hate crimes."
"Messages like that are written out of fear … and if think he is emboldened by this because of the political environment that's in place right now, that's just not true," Downing said. "Whoever is the president is the president for all Americans."
The news conference, at the Islamic Center of Southern California in Koreatown, came after the threatening letters were sent to mosques in Southern and Northern California, and at least one in Georgia. The Islamic Center itself received a letter, as did a location in Northridge, an FBI official said.
An anonymous group calling itself "Americans for a Better Way" has sent the letter, to the Council on American-Islamic Relations, a Muslim advocacy group.
CAIR's L.A. office said the letter went to Islamic Center of Long Beach and the Islamic Center of Claremont, as well as the Evergreen Islamic Center in San Jose.
Another letter was sent to a mosque in Savannah, Georgia, according to the group.
All the letters are similar and appear to be from the same author, said Stephen Woolery, special agent in charge of the FBI's Counterterrorism Division in Los Angeles.
The letters do not contain a specific or direct threat of violence, Woolery said, and thus the FBI does not have an open investigation on the letters.
"He's going to do to you Muslims what Hitler did to the jews [sic]," the letter said. "You muslims [sic] would be wise to pack your bags and get out of Dodge."
In an online statement, the mosque in San Jose confirmed it received a copy of the letter Thursday night.
"We informed the proper authorities and San Jose police have started a formal investigation," the statement said.
The San Jose Police Department, referring to the letter as a "hate motivated" incident, said in a statement it would conduct a follow-up investigation.
Since the election, the Southern Poverty Law Center has documented more than 700 incidents of hateful harassment or intimidation against minorities. According to CAIR, at least 100 anti-Muslim incidents have taken place during that same period.
CAIR has called for stepped-up police protection of local mosques.
The letter writer should come forward, Salam Al-Marayati, president of the Muslim Public Affairs Council, said at Monday's news conference.
"Bullies feel bolstered, emboldened in dark alleys. So we're telling this person, come out in broad daylight and let's discuss it," Al-Marayati said. "Be a man … and stand up for what you believe in, and let us discuss."