This is an archived article and the information in the article may be outdated. Please look at the time stamp on the story to see when it was last updated.
Authorities on Monday released the identity of a man who died after being shot at a house party in Sylmar over the weekend.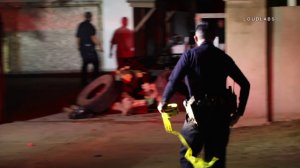 Officers responded around 1 a.m. Sunday and found Pedro Hernandez, 19, suffering from a gunshot wound at the scene of the shooting in the 14500 block of Tyler Street, according to a news release from the Los Angeles Police Department.
Hernandez was transported to a local hospital where he later died.
LAPD officials told KTLA on Sunday morning that the party appeared to have been organized through social media. They added that there was some sort of altercation prior to the shooting.
No arrests had been made. Four people, described only as Hispanic males, were being sought in connection with the case, according to Sgt. Robert Leary.
Another man was found a few blocks away with a graze wound, authorities said, but it remained unclear whether he was injured at the party or someplace else.
Anyone with additional information was asked to contact LAPD Detective Rich Moakley at 818-374-1938.