This is an archived article and the information in the article may be outdated. Please look at the time stamp on the story to see when it was last updated.
Two young women accused of fatally shooting a 61-year-old North Hollywood liquor store clerk during an attempted robbery were charged with murder Thursday.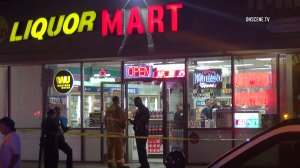 Rosa Manuela Barrientos, 23, Maria Michelle Inzunza, 25, each face one count of murder with the special circumstance allegation that the crime was committed during a robbery, and one count of attempted robbery of the second degree, the Los Angeles County District Attorney's Office announced.
The pair were expected to be arraigned Thursday afternoon.
Barrientos was the shooter, according to a news release from the DA's office, which stated she was convicted of second-degree robbery last year.
The pair were first identified earlier Thursday in a Los Angeles Police Department news release that stated Barrientos was 21. Inmate record show she is 23.
The women were arrested in Hollywood midday Tuesday in the death of Mohammed Kalam, who was fatally shot late Saturday night at the A & D Liquor Mart in the 12600 block of Sherman Way, police said.
Officers responded to a report of an apparent robbery at the store and found Kalam with a single gunshot wound to the upper torso. He died at the scene.
Two people were seen fleeing the store, apparently without taking any money or merchandise.
Barrientos and Inzunza are being held without bail.
If convicted as charged, they each face the death penalty or life in prison without parole.
KTLA's Irving Last contributed to this story.