This is an archived article and the information in the article may be outdated. Please look at the time stamp on the story to see when it was last updated.
A burglar is targeting Los Angeles-area residents who have left their homes to attend a funeral, and now police say they have identified the man suspected of committing the break-ins.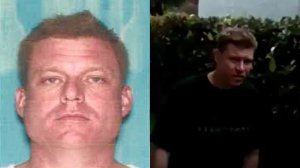 Two victims in separate crimes – one in the San Fernando Valley and another in West L.A. – were at funerals for their respective parents when they were targeted, LAPD Detective Marc Diamond said at a news conference in Van Nuys Thursday.
After video of the burglar was released and the crimes were publicized on local media, including KTLA, in late March, sources contacted police and identified the thief as Brett Patrick Rogers, 44, the detective said.
A felony warrant has been issued for Rogers' arrest.
"He knows we're looking for him," Diamond said. "If you know him, urge him to surrender."
Rogers may be staying at motels and hotels in Orange and Huntington Beach, and he has family in Riverside and Lake Elsinore.
He may also have been involved in burglaries in Glendale and Lakewood where the victims were also at funerals, police believe.
"This is the first time we've seen multiple victims hit while they're at funerals," Diamond said.
The detective indicated it's easy to find information online about potential victims and their relatives' funerals. Two of the funerals linked to burglaries were posted in the Los Angeles Times, and the victims were listed as survivors, the detective said.
"I Googled my victim not using any police stuff and I was able to find out the area he lives and so forth," Diamond said. "Plus, with the obituary being posted, you know the date of the service, the time of the service. So odds are nobody's going to be home."
Diamond urged Rogers to surrender, and to contact him at the LAPD Van Nuys station.
One of the crimes took place in Sherman Oaks about 2:10 p.m. March 11, when Rogers is alleged to have parked his white, four-door Mercedes-Benz in the driveway of a home in the 4500 block of Nagle Avenue. After he walked to the front door of the home and received no response, the doorbell camera was activated, authorities said.
He eventually kicked open the garage door and entered an attached garage. But when an alarm went off, he fled in the Mercedes, not taking anything from the home.
Four days earlier, on March 7, a similar residential burglary occurred in West Los Angeles while the victim was also at a funeral.
The burglar has been described by LAPD as a white man with dirty blond hair, between the age of 25 and 35. He stands 5 feet 11 inches to 6 feet tall and weighs between 170 and 180 pounds. He wore all black: a T-shirt, jeans and black Nike tennis shoes.
His Mercedes has no front license plate, a sunroof, tinted windows and chrome rims, authorities said.
Anyone with information is asked to call Diamond at 818-374-0029 or Detective Krauss at 818-374-0031. Beyond normal business hours and on weekends, tipsters should call 877-527-3247. Those wishing to leave a tip anonymously can do so at 800-222-8477 or lapdonline.org.