This is an archived article and the information in the article may be outdated. Please look at the time stamp on the story to see when it was last updated.
A pickup truck driver who led officers on a high-speed pursuit from the San Fernando Valley to the Antelope Valley surrendered Monday night nearly two hours after the chase began.
The chase started at 5:07 p.m. in the Northridge area, according to Officer Liliana Preciado with the Los Angeles Police Department.
Officers observed a dark gray Ford F-150 traveling at a high rate of speed on the opposite side of the road at Saticoy Street and Topanga Canyon, Preciado said.
During the course of the chase, the truck was involved in two crashes: one at Saticoy Street and DeSoto Avenue and another at Shoshone Avenue and Rinaldi Street.
The driver then led LAPD officers down the 118 Freeway to Porter Ranch where the truck exited onto surface streets.
The pursuit then continued on the northbound 14 Freeway where aerial video showed the truck was driving on the left and right shoulders.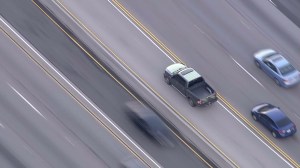 Once on the 14 Freeway, officers from the California Highway Patrol took over the chase.
The truck could be seen driving erratically in and out of traffic lanes at speeds close to 100 mph until reaching Palmdale.
The truck exited the freeway at Avenue N in Palmdale and drove to a gated community where a woman jumped out of the vehicle and ran into a home.
The driver appeared to be headed back toward the freeway when he was involved in a head-on crash with another vehicle at the intersection of Rancho Vista Boulevard and 30th Street West following a PIT maneuver by a CHP vehicle.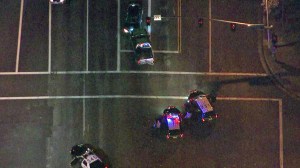 Two people inside the vehicle struck by the truck were able to get out of their car and ran away.
"One of our officers put himself in harm's way and actually ran to that vehicle ... took them out of their vehicle and assisted them to a safe location," said CHP Officer Gil Hernandez.
The suspect remained barricaded inside the damaged truck for nearly 40 minutes, surrounded by CHP officers and sheriff's deputies.
While inside the truck, authorities said the driver lit a pipe containing some sort of illegal substance.
The driver eventually surrendered and was taken into custody.
He was then taken by ambulance to the hospital.
The woman who had also been in the truck was interviewed by authorities. It was not clear whether she would be arrested.
More video: