This is an archived article and the information in the article may be outdated. Please look at the time stamp on the story to see when it was last updated.
Police on Tuesday were investigating a body found in suspicious circumstances in the Hollywood Hills, on the border with Studio City, authorities said.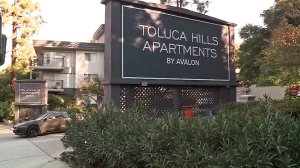 Officers responded to a call about a dead body at the Toluca Hills Apartments in the 3600 block of Barham Boulevard around 1:27 p.m., according to Los Angeles Police Department Officer Tony Im. The incident was being investigated as a "murder," he said.
North Hollywood officers told homicide detectives they found the body of a Hispanic male in his early 30s with a gunshot wound on the ground of complex's parking structure, Im said. The victim was pronounced dead at the scene and no suspect was found.
Several residents reported hearing gunshots, followed by a woman screaming.
"It was a man for sure, but we couldn't see much," neighbor Mehdi Dumartin said. "When I arrived from school, I just saw a woman crying and screaming — like really, really screaming — and police officers all around."
There was no further information on the victim's identity, nor were other details immediately available.
KTLA's Nidia Becerra contributed to this article.