This is an archived article and the information in the article may be outdated. Please look at the time stamp on the story to see when it was last updated.
As friends and family mourned the death of a teen bicyclist, police were searching Thursday for the hit-and-run driver who fatally struck him in South Los Angeles.
A hit-and-run near South Normandie Avenue and West 47th Street (map) was reported to the police about 9:40 p.m. Wednesday, Los Angeles Police Department Officer Nuria Vanegas said.
The victim died while en route to the hospital, police said.
He was later identified as 19-year-old Oscar Orlando Toledo Jr., LAPD Officer Rosario Herrera said.
Mother Maricela Chavez said tearfully on Thursday afternoon that her son was loved. He had recently become a father, she said.
Robert Reyes, a longtime friend of Toledo, said he loved to have fun, aimed to live "life to the fullest," and was a deeply caring person.
"All he cared about was his people. He cared about his mom, he cared about his family, and he cared about his friends,' he said.
Reyes added, "He died alone on the street. And he didn't deserve to go out like that."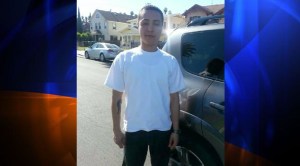 Friends and family gathered Thursday at the spot where Toledo was hit, where flowers and candles were placed on the sidewalk. One wept openly, repeating how young Toledo was.
Family members urged the person responsible to turn himself or herself in to police.
Reyes had a message for the driver who fled the scene.
"You're a coward. Because even a dog will help another dog off the street," he said.
After saying they were getting mixed information about the car being sought, police said the vehicle was a maroon Pontiac.
The East Side Riders Bike Club invited people to ride their bikes and come together to create a memorial by placing a "Ghost Bike" at the crime scene at 7 p.m. Friday, according to a Facebook event.
KTLA's Christina Pascucci and Rick Chambers contributed to this article.