This is an archived article and the information in the article may be outdated. Please look at the time stamp on the story to see when it was last updated.
An LAPD motorcycle officer was injured in a crash in Van Nuys Friday morning.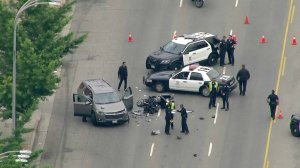 The crash occurred about 10:10 a.m. near the intersection of Van Nuys Boulevard and Hartland Street, officials said.
Officers were conducting traffic enforcement when the motorcycle officer spotted a bicyclist who failed to stop at a red light, Sgt. David Delgado told KTLA.
The officer was going to stop the bicyclist when an SUV was pulling out of a private driveway in front of the officer. The motorcycle officer crashed into the front of the other vehicle and was thrown to the ground, Delgado said.
The officer was taken to a hospital and is in stable condition. He may have suffered some broken bones, the sergeant added.
An infant who was in the other vehicle with three adults was safely taken out, aerial video from Sky 5 showed.
An occupant of the SUV was taken to a hospital with complaint of pain.
Aerial video showed a heavily-damaged motorcycle and an SUV at the scene with several Los Angeles Police Department units nearby.
The officer was wearing a body camera, and the other vehicle was also equipped with a camera, Delgado said.
The intersection remained closed for hours after the crash for an investigation.