This is an archived article and the information in the article may be outdated. Please look at the time stamp on the story to see when it was last updated.
The Los Angeles Police Department on Sunday was mourning the loss of an officer who was killed in a fatal hit-and-run in Harbor City.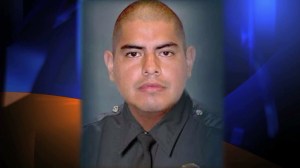 Officer Robert Sanchez, 32, was killed on Saturday following a collision between the patrol car he was driving and an SUV that occurred around 3:45 a.m. near the intersection of West Anaheim Street and President Avenue (map), according to the LAPD.
"In this difficult time for the Los Angeles Police Department, sorrow comes to us by the tragic loss of our brother," LAPD Chief Charlie Beck said in a statement on Saturday. "His surviving partner officer, remains hospitalized. He will need your prayers while he recovers and copes with the tragic loss of not only a partner, but a best friend."
Sanchez, who was stationed with with the Harbor Division, was a six-year veteran of the LAPD, according to a news release. He was previously stationed in West Los Angeles and Newton.
He is survived by his wife and both parents.
Sanchez was the third on-duty LAPD officer to die in a traffic collision in a span of less than two months.
Officer Nicholas Lee died in March and motorcycle officer Chris Cortijo was killed in April.

"Of course, this comes on the heels of two other traffic collisions that resulted in the death of Los Angeles police officers, so the entire police department of course is having a very difficult time losing another one of our officers," LAPD Cmdr. Andrew Smith said.
Mayor Eric Garcetti on Saturday ordered the city's flags to be flown at half staff.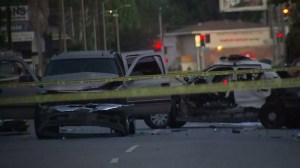 The injured officer remained in critical condition at Harbor-UCLA Medical Center on Sunday morning, but was expected to survive, police said.
A preliminary report indicated the officers were following a vehicle that was allegedly going at a high rate of speed on West Anaheim Street, Smith said.
The car then made a U-turn, officers followed and that was when the collision occurred, according to Smith.
"The SUV hit the police vehicle – we're calling it a 't-bone-type accident' – and it caved in the driver's side of the vehicle." LAPD Lt. John Pasquariello said.
A person in the SUV involved in the traffic collision initially fled the scene, according to the LAPD.
"Further investigation identified a person who is believed to be associated with the incident," the release stated. "That individual has been located and detained as a person of interest and is being interrogated by detectives."
As of Sunday morning, the LAPD had not said yet whether they have made any arrests in connection with the crash.
KTLA's Erin Myers contributed to this report.