This is an archived article and the information in the article may be outdated. Please look at the time stamp on the story to see when it was last updated.
A Los Angeles police officer is under investigation for allegedly beating and kicking a suspect who was being held down by other officers, according to sources close to the probe.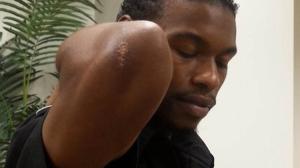 The altercation was captured by a private company's security camera. Several police officials who saw the video told The Times that the officer delivered a powerful kick to the suspect's head. One said the officer resembled "a football player kicking a field goal." Another described it as "horrific." The suspect, they said, had surrendered and was not resisting the officers.
A lawyer for the officer confirmed that the suspect was kicked, but said the blow landed on the man's shoulder. He said the officers used appropriate force on the suspect, who was resisting being handcuffed.
After inquiries from The Times, Chief Charlie Beck released a statement Friday saying he was "extremely concerned about this particular use of force."
Click here to read the full story at LATimes.com.