This is an archived article and the information in the article may be outdated. Please look at the time stamp on the story to see when it was last updated.
A Los Angeles police officer who allegedly beat and kicked a man in an October arrest was charged Monday with one count of assault under color of authority, and his alleged victim thanked God for "some kind of justice."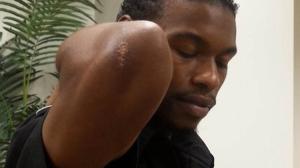 LAPD Officer Richard Garcia entered a not guilty plea in a downtown Los Angeles courthouse just after the Los Angeles County District Attorney's Office announced the charge against him.
Garcia, 34, was charged in connection with an Oct. 16, 2014, arrest near 55th Street and Avalon Boulevard in the South Park neighborhood of South Los Angeles.
The victim, who matched the description of a man sought in a robbery, ran from police officers, according to a news release from the DA's office. Officer chased him.
Identified by his attorney as 22-year-old Clinton Alford Jr., the victim surrendered. Alford said he remembered being yanked off his bike and then attacked.
Garcia allegedly assaulted Alford while he lay prone on the ground, the DA's office said.
Attorney Caree Harper filed a federal civil rights lawsuit on Alford's behalf in November. Soon after that, charges were dismissed again Alford, Harper announced, calling for Los Angeles Police Department Chief Charlie Beck to release surveillance video that captured the beating.
The video has not been made public.
Police officials who saw footage of the alleged assault told the Los Angeles Times that an officer kicked the man's head, the newspaper reported. One officer described it as "a football player kicking a field goal," while another described it as "horrific," according to the Times.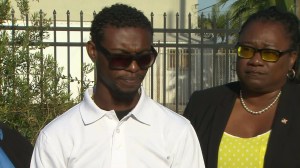 At an early evening news conference Monday, Alford said he "thanked God for some type of justice." He described being kicked multiple times "from my head to my temple to my ears" and beat with fists and elbows.
"I was just praying to God that they wouldn't kill me. I felt that I was going to die," Alford said.
Harper called for Garcia to be fired from LAPD.
"We're not done. We want his job," Harper said. "Charging him is not enough. We do not want him to be a police officer in the city of Los Angeles anymore, and he should not be."
Last fall, Harper released photos of Alford's injuries, including what she said were Taser marks on his back. Nearly two weeks after the arrest, Harper and Alford, who remained on crutches and appeared to be in pain, spoke to media.
Alford was kicked so hard a filling came out of one of his teeth, Harper said at the time.
Garcia has been placed on administrative leave, the DA's press release stated Monday. He was assigned to the Los Angeles Police Department Newton Division's Parole Compliance Unit, the release said.
LAPD issued a statement Monday afternoon saying the department had worked closely with prosecutors on the case.
"The department immediately identified issues and had concerns regarding some of the actions of Garcia and he has not been in the field since the time of the incident," the statement read in part.
Disciplinary and administrative investigations were continuing, LAPD stated.
A little over a week after Alford's arrest, LAPD issued a statement in which Beck said, "Any officer that is found to abuse the public is not welcome in this department, and we will apply whatever legal or administrative means necessary to insure the community's trust without exception."
That statement was reiterated by LAPD Monday.
If convicted as charged, Garcia faces up to three years in jail.
Bail was recommended at $35,000 bail, the DA's office stated, but it was not immediately clear what figure the judge selected.
No custody records for Garcia were found in Los Angeles County online inmate records.
Garcia was due back in court June 1.
More video: