This is an archived article and the information in the article may be outdated. Please look at the time stamp on the story to see when it was last updated.
A Los Angeles Police Department officer who allegedly choked his estranged wife until she passed out has been charged with premeditated, attempted murder in connection the Inglewood attack, authorities confirmed Thursday.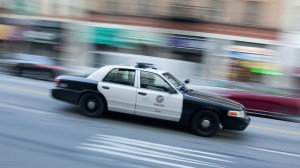 Jose Robert Figueroa, 29, appeared in Inglewood Superior Court on Wednesday, when his arraignment was postponed until June 4, according to a spokesman for the Los Angeles County District Attorney's Office.
In an interview at the door of her Inglewood home Thursday, his wife said in Spanish that Figueroa had tried to strangle her on Sunday.
With a black eye and bruises, she said she was very scared but believed God was with her and that was what saved her.
Deputy District Attorney Sam Ahmadpour said Figueroa threatened to kill his estranged wife in her apartment and "choked her until she passed out," according to a press release issued by the DA's office Thursday afternoon.
"When she awoke, she was tied up," the release stated.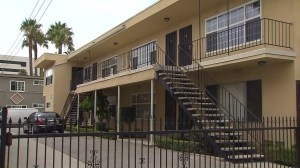 A neighbor said she saw the woman's Inglewood apartment stormed by armed officers on Sunday night, but Figueroa was already gone.
Figueroa soon turned himself into to LAPD's Newton Division, where he is an officer, the DA's office confirmed.
Figueroa was charged with the attempted willful, deliberate and premeditated murder of his wife on May 18, according to a criminal complaint. The alleged victim, whom KTLA is not identifying because she may be a victim of domestic violence, confirmed that she is his estranged wife of seven years.
The couple have a 6-year-old son and are going through a divorce, the woman said.
Under the second count in the criminal complaint, Figueroa was charged under a penal code section that covers injuring a spouse, cohabitant, fiancé, boyfriend, girlfriend or child's parent. The count stated that Jose Figueroa "willfully inflicted corporal injury resulting in a traumatic condition upon (the victim), who was the mother of the minor's child," and referred to "circumstances involving domestic violence."
The third count alleged criminal threats, stating that Figueroa threatened to kill the woman in a manner that was "so unequivocal, unconditional, immediate and specific as to convey to (her) a gravity of purpose and an immediate prospect of execution."
Figueroa was taken into custody at 1:45 a.m. Monday by the Inglewood Police Department, online county inmate records showed.
He is an officer with the LAPD, police Cmdr. Andrew Smith confirmed. Figueroa had been "assigned home" and was on paid leave pending the outcome of the investigation, Smith said.
Figueroa was being held on $2.5 million bail at the Men's Central Jail in downtown Los Angeles and was due to appear in court again Friday for a bail review hearing.
Figueroa faces a life sentence if convicted of all charges, according to the DA's office.
A spokesman for the DA's office initially reported incorrectly that Figueroa entered a not guilty plea on Thursday, but later stated that in fact Figueroa was not arraigned Wednesday.
The case was being investigated by the Inglewood Police Department.
Inglewood police Lt. Gabriella Garcia said the department was not releasing information about the incident.
KTLA's Christina Pascucci and Jennifer Thang contributed to this article.