This is an archived article and the information in the article may be outdated. Please look at the time stamp on the story to see when it was last updated.
A LAPD officer running long distances in full uniform for charity finished a leg of a race from Bakersfield back to Los Angeles early in honor of a 30-year-old Pomona police officer who was killed in the line of duty on Saturday.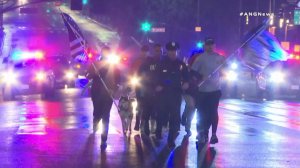 Officer Joe Cirrito was set to finish the leg of the race on Sunday, but when he heard about the incident in Pomona, he decided to "push through."
Cirrito began the run from Bakersfield to Los Angeles on March 9, to commemorate the death of LAPD Officer Ian J. Campbell, who was killed in 1963. The "Just Cause" run ended at the Los Angeles Police Department's Fallen Officer Memorial in downtown, and proceeds raised during the endeavor will go to needed repairs for the monument, according to a webpage for the fundraiser.
After getting to the memorial, Cirrito cried as he touched it, video from the scene showed. He was then embraced by supporters.
Through tears, he told a videographer that he heard about Pomona police Officer Greggory Casillas' death and said it was "awful."
"We were going to finish up tomorrow, but decided to push it through for today for them and the department, and the young man that died," Cirrito said.
Cirrito is also raising funds for law enforcement-sponsored youth programs and young people participating in the Run To Remember Los Angeles 10K/Half Marathon on April 8.
Casillas was fatally shot early Saturday while responding to a barricaded suspect. He is survived by his parents, wife and two young children.
Isaias De Jesus Valencia, 39, was arrested after a 15-hour standoff with law enforcement officials and faces murder and attempted murder charges.