This is an archived article and the information in the article may be outdated. Please look at the time stamp on the story to see when it was last updated.
The Los Angeles police officer who had been arrested following a deadly crash in which alcohol possibly played a role was released from custody on Thursday, according to inmate records.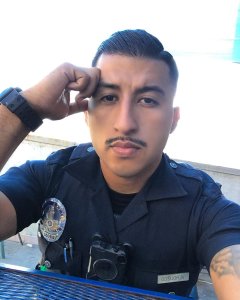 Edgar Verduzco, 26, left Men's Central Jail in downtown Los Angeles around 5:10 p.m. due to insufficient grounds to file charges, the L.A. County Sheriff's Department inmate database shows.
Earlier in the day, Officer Al Perez with the California Highway Patrol — which is investigating the incident — told KTLA the agency had not yet submitted a formal complaint to the District Attorney's office and did not expect to before the 48-hour deadline for holding prisoners without a warrant.
The Los Angeles Police Department confirmed Verduzco was assigned to his home with pay as the investigation continues.
He had been arrested on suspicion of felony driving under the influence and vehicular manslaughter.
The police officer was off duty Tuesday night when around 10:15 p.m. his Chevy Camaro smashed into the back of a Nissan carrying a teenager and his two parents, identified by family as Oscar, Maribel and Mario Davila of Riverside. All three died after their vehicle caught fire and burst into flames.
A woman in a second car that was impacted also sustained minor injuries, and Verduzco suffered a broken nose.
Video posted to the 26-year-old's Instagram account around 7 p.m. Tuesday used a hashtag to caution viewers against drinking and driving. It showed an animated avatar sitting in a car atop what appeared to be a counter at a bar with glasses of beer.
It was not immediately clear Thursday evening whether the Calfornia Highway Patrol planned to file a warrant for Verduzco's arrest. The agency is continuing to investigate the collision and said they are awaiting blood test results.