This is an archived article and the information in the article may be outdated. Please look at the time stamp on the story to see when it was last updated.
A Los Angeles police officer was struck by a vehicle in Granada Hills Thursday and was taken to a hospital in an ambulance, prompting a three-hour manhunt for the driver who fled on foot, authorities said.
The collision occurred in the 10900 block of Haskell Avenue (map) around noon, according to the Los Angeles Police Department.
A narcotics officer was reported down, and there was an active search in the area for a "suspect," LAPD Officer Jane Kim initially said. She later confirmed that the officer was struck by a vehicle.
"The suspect actually crashed up onto the sidewalk and into a wrought-iron fence, LAPD Lt. Andrew Neiman said.
The driver was arrested and the search was concluded, according to Neiman said. No other details were offered.
At the site of the crash, aerial video showed the officer being treated by paramedics on a sidewalk in a residential neighborhood, and a maroon Chevrolet Tahoe SUV crashed into a hedge a few feet away. A white pickup truck was parked nearby.
The officer had a major compound fracture, Kim said. She believed the injury was in the hip or femur area.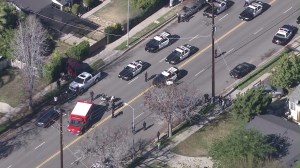 The officer was lifted onto a gurney and wheeled into a Fire Department ambulance just before 12:30 p.m. At least seven LAPD patrol cars were on scene.
He was in serious but stable condition, LAPD stated on Twitter.
"He is going into surgery," LAPD Chief Charlie Beck said. "His spirits are good. His family is with him."
The driver who fled was described by LAPD Officer Liliana Preciado as a "chubby-looking" black man, about 5 feet 6 inches tall, weighing between 180 and 200 pounds, and with a short Afro haircut. He was last seen wearing blue jeans and a maroon sweatshirt, she said.
He wanted for assault with a deadly weapon on a police officer, Preciado said.
A search perimeter was set up in the area, and at about 1:20 p.m., armed officers and K-9s were surrounding a home about 4 miles from the scene of the crash.
A barking dog helped lead officers to the suspect in a backyard on San Fernando Road and Haskell Avenue.
Four schools in the area were on lockdown as a precaution due to the police activity, the LAUSD school police department said on Twitter. The schools were: Kennedy High, Danube Elementary, Haskell Elementary, and Porter Middle School.
Preciado said she was not certain if the officer was in plainclothes, but she said narcotics officers often are in plainclothes.
KTLA's Jennifer Thang contributed to this article.
More Video: