This is an archived article and the information in the article may be outdated. Please look at the time stamp on the story to see when it was last updated.
A newborn baby just three weeks old was unresponsive when police arrived to a home in the Westlake district of Los Angeles Saturday night, but one of the responding officers managed to revive the infant with chest compressions and the father has since been booked on a child abuse charge, police said.
The officer who got the newborn boy breathing again, through giving modified chest compressions, is Officer Alex Frazier of the Los Angeles Police Department's Rampart Division, police said. He found the baby unresponsive when LAPD arrived to a home in the 200 block of Columbia Avenue at about 11 p.m.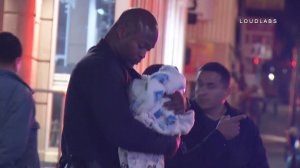 Police had received multiple calls from neighbors about possible domestic abuse, and later child abuse, occurring at the home. Once officers arrived, they said they discovered the mother outside the home crying as she sat in an Uber car.
She told the officers the baby's father had been holding him loosely, like a football, while hitting her, police said. When pleaded for him to give her the baby back, he threw the infant to the ground.
"The mom kept stating that the baby was not breathing, was not moving," said Officer Ivan Ibarra, who responded to the scene with Frazier. "Baby was cold, unresponsive. I tried waking the baby up."
When the baby still wouldn't respond, Ibarra handed him to Frazier. From there, the officer started doing modified chest compressions to try waking the infant.
"I've seen a lot on this job, but to see a baby that wasn't moving, lifeless — it was pretty scary," Frazier said.
After about a minute, the baby appeared to awaken.
"Eventually, he just kinda rolled his head a little bit, and let us know he was in there a little bit more," Frazier said. "So I just continued until the paramedics got there."
The father was arrested at the scene and booked on a charge of child abuse, LAPD officials said. The mother and baby were taken to a nearby hospital for treatment.
While the baby is slightly bruised, he did not suffer major injuries, police said, and his mother has a few minor scratches and bruises.
"It hits home, especially when you have small children," Ibarra said. "My son's only 10 months old."
Frazier said the experience made him think of his own children, too.
"I went home immediately and kissed my kids," Frazier said. "I'm a parent. My kids are my everything."
No further information has been released by LAPD.