This is an archived article and the information in the article may be outdated. Please look at the time stamp on the story to see when it was last updated.
A 34-year-old man was arrested Tuesday after a Los Angeles police officer was struck by a vehicle while conducting a traffic stop on the 405 Freeway in the West L.A. according to the California Highway Patrol.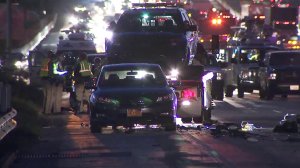 The crash occurred on the northbound freeway just south of Santa Monica Boulevard about 11:45 p.m. Monday, according to a California Highway Patrol's news release.
The officer was conducting a traffic stop on the freeway when he was struck by 2003 Infinity Q35 being driven by Douglas Donovan, a Woodland Hills resident, the release stated.
Donovan was driving in the northbound No. 5 lane when he maneuvered the Infiniti "unsafely to the right" and rear-ended the police officer's 2014 Ford Explorer, according to CHP.  The patrol vehicle then hit the officer and crashed into a 2013 Honda Accord.
The officer suffered a serious leg injury, but was expected to survive, Los Angeles Police Department Officer Irma Mota said. CHP described the injury as "major."
On Tuesday evening, Beck tweeted that the injured officer was "tragically struck by a suspected DUI driver."
"My heart, support, and prayers are with him and his family tonight as he recovers," Beck wrote.
CHP confirmed investigators suspected alcohol and/or drugs played a role in the crash.
Donovan, who was not injured, was arrested, according to CHP. He was booked on suspicion of driving under the influence, City News Service reported.
The CHP issued a SigAlert for all northbound lanes about 11:55 p.m.  The 405 Freeway was completely reopened at 10:05 a.m.
KTLA's Alexandria Hernandez, Melissa Pamer and Tracy Bloom contributed to this report.
This morning an #LAPD officer was conducting a traffic stop on the 405 freeway near the Santa Monica exit. He was struck by a vehicle. The officer suffered a serious leg injury and is currently in surgery at a local hospital.

— LAPD HQ (@LAPDHQ) December 12, 2017
Early this morning while many of us were sleeping, one of your #LAPD officers assigned to @LAPDWestLA was tragically struck by a suspected DUI driver while conducting a traffic stop. My heart, support, and prayers are with him and his family tonight as he recovers. pic.twitter.com/6yBwSZlaY3

— Chief Charlie Beck (@LAPDChiefBeck) December 13, 2017