This is an archived article and the information in the article may be outdated. Please look at the time stamp on the story to see when it was last updated.
A female Los Angeles Police Officer remains hospitalized Saturday after being shot in the leg in North Hills during an evening traffic stop, police said.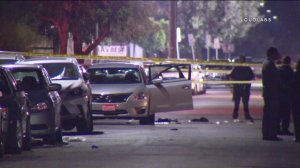 At around 10:15 p.m. Friday near the intersection of Plummer Street and Noble Avenue, the female officer and her partner pulled a car over and that's when the shooting happened, LAPD officials said.
"We don't know what type of violation occurred or whether the officer may have recognized the suspect, whether he had an outstanding warrant. That's unknown at this point," Sgt. Frank Preciado told KTLA. "What we do know is when the female officer, who was the driver officer, approached the vehicle that's when the suspect shot and injured that officer."
Preciado said the partner officer returned fire, striking the suspected gunman.
The officer was conscious and breathing when she was transported to the hospital. LAPD officials said she was expected to survive.
The suspect was taken in custody and transported to a hospital.
It was unclear how many times the suspect was shot, but LAPD officials described his condition as "teetering."
The motive as to why the officer was shot was under investigation.
Police told KTLA a weapon was recovered at the scene.