This is an archived article and the information in the article may be outdated. Please look at the time stamp on the story to see when it was last updated.
Pomona police on Saturday were searching for a missing Los Angeles Police Department officer who was considered a "person of interest" in the fatal shooting of a 23-year-old man, authorities said.
The shooting occurred around 3:30 a.m. Friday in the area of Third and Main streets following a physical altercation between the victim, Salome Rodriguez Jr., and the shooter, according to a news release from the Pomona Police Department.
During the course of the confrontation, the Ontario resident was shot at least once in the lower torso. He was taken by ambulance to USC Medical Center where he later died from his injuries.
On Saturday night, Pomona police announced that they were looking for Henry Solis, 27, in connection with the shooting. Authorities have not referred to him as a suspect in the case and only stated that he was considered a "person of interest."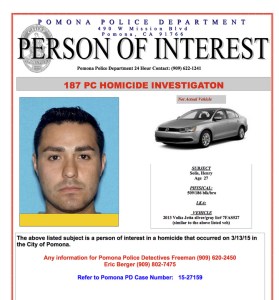 Solis, who works as a probationary officer with LAPD, was not on duty at the time the victim was shot, a separate news release stated.
LAPD Cmdr. Andrew Smith told the Los Angeles Times that the rookie officer has been with the department since June and was assigned to LAPD's Devonshire Division in November.
Smith described his history with the department as "unremarkable."
Police were asking for the public's help in locating Solis, who hasn't reported to work since the killing occurred, the release stated.
Solis is described as Hispanic, standing 5 feet 9 inches tall and weighing approximately 185 pounds. His last known address was in Pomona.
He drives a silver or gray 2013 Volkswagen Jetta with a California license plate of 7FAS527. Police thus far have been unable to locate the car.
Anyone with information on Solis' whereabouts is asked to call the Pomona Police Department's Detective Bureau at 909-620-2085.
Those who wanted to leave a tip anonymously were urged to call Crime Stoppers at 1-800-222-8477 or We-Tip at 1-800-782-7463.
As the search for Solis continued, Rodriguez's grieving family has set up a GoFundMe fundraising page to cover the cost of the young man's funeral.
A family member told KTLA that Rodriguez was the oldest son in the family and had five siblings. She called him a man of faith and said he served as a missionary at a Catholic church in L.A.
The relative added that Rodriguez, who went by "Junior," rarely went out, but that a coworker had convinced him to go out with them in downtown the night of the shooting.
She added that Rodriguez did not know Solis.
KTLA's Feven Kiflegiorgis contributed to this story.