This is an archived article and the information in the article may be outdated. Please look at the time stamp on the story to see when it was last updated.
An off-duty Los Angeles Police Department officer who crashed in a McDonald's drive-thru early Friday morning in Diamond Bar was arrested on suspicion of driving under the influence, according to authorities.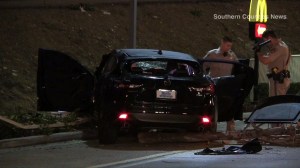 The officer was on the Brea Canyon Road off-ramp leaving the eastbound 60 Freeway (map) when he crashed about 1:15 a.m., California Highway Patrol Officer Rodrigo Jimenez said.
"The crash occurred when he failed to negotiate the right turn. Instead, he left the off-ramp, went through the on-ramp and eventually crash-landed in the McDonald's parking lot," Jimenez said.
The LAPD officer, who was hospitalized, was identified as Jonathan D. Chel, 29, CHP Officer Jose Barrios said. No one else was injured in the incident.
Chel did not take a breath test in the field, and CHP was not releasing his blood-alcohol level, citing an ongoing investigation, Jimenez said. The was evidence of alcohol consumption, however.
"We had enough to substantiate that he was under the influence of alcohol," Jimenez said.
Chel was initially arrested on suspicion of driving under the influence of alcohol, then CHP officials decided to release him to an LAPD sergeant.
"We decided that the appropriate action to take … was to cite and release him to his supervisor from the Los Angeles Police Department," Jimenez said.
Noting that police officers "are definitely held to a higher standard," Jimenez said the case would not be treated "any differently than any other circumstance."
The black Mazda 3 Chel was driving was seriously damaged, with a crumpled front end and smashed windows, video from the scene showed.
The Los Angeles County Fire Department had to pry open the car door to remove Chel, who sustained moderate injuries, Jimenez said. Chel was taken to UC Irvine Medical Center.
The officer's speed at the time of the crash was still under investigation, Jimenez said. 
Chel's gun and badge were found in the car, which had been taken to a tow yard, Jimenez added.
LAPD Media Relations Section Officer Luis Garcia did not have details on Chel's case, but said a patrol officer whose license was suspended for DUI would not be allowed on normal duty. An LAPD review board would determine whether the officer could continue to go out on patrol with his partner driving, Garcia said.
In Chel's Fullerton neighborhood, residents said he had lived in the house for several years and made neighbors feel safer.
KTLA's Melissa Pamer, Jennifer Thang and Kareen Wynter contributed to this article.