This is an archived article and the information in the article may be outdated. Please look at the time stamp on the story to see when it was last updated.
An LAPD officer plans to run the 2016 L.A. Marathon in full tactical gear to raise money for an nonprofit that allows local police officers to support those in need who they encounter on city streets.
Los Angeles Police Department Officer Kristina Tudor hopes to raise $25,000 for Badge of Heart Foundation. With a little over three weeks till the Valentine's Day marathon, she's raised about $3,000, according to her GoFundMe page.
Tudor plans wear a tactical vest and belt, Kevlar, boots and other tactical equipment — just as she did in the 2015 marathon.
"If you're going to put yourself through physical torment, I think it's nice to make it something bigger than yourself," she told KTLA.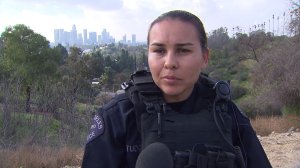 Badge of Heart Foundation, founded in 2014 by LAPD Officer Ken Lew, seeks to help officers help the victims of crime and hardship that they encounter while working.
The organization gave away 500 Thanksgiving meals to families in 2015, and aims to do the same for 1,000 families in 2016, according to Tudor's GoFundMe page.
Tudor said her training requires determination, endurance and patience.
"That mirrors what we do every day at work," she said.
https://twitter.com/LAPDKennyLew/status/689244889339445248
Help support Marathoner LAPD Officer Kristina Tudor on her mission to help needy families. https://t.co/vCMAjt2I9U pic.twitter.com/LYNCqO425s

— Kenny Lew (@KennyLewBOH) January 4, 2016