This is an archived article and the information in the article may be outdated. Please look at the time stamp on the story to see when it was last updated.
Both men fatally shot in by Los Angeles police officers over the weekend bore handguns — one of them fully loaded and the other a replica firearm with its orange tip colored black — according to LAPD Chief Charlie Beck.
The circumstances of both killings were caught on video, he said.
Beck spoke at an 11 a.m. new conference to address the two South Los Angeles shootings, which he said occurred in areas of the city among the most heavily impacted by gun violence. He said 450 people have been shot in those neighborhoods.
"We at the Los Angeles Police Department understand that some of our communities are so severely impacted by violence, including use of force by police, that this tragedy is compounded to a degree that sometimes seems unbearable," Beck said.
Replica handgun found at scene of Sunday shooting
The most recent incident came late Sunday afternoon, when officers responded to a report of a man armed with a gun near Ascot Elementary School, police said Sunday.
Newton Division gang enforcement officers were looking for the person who prompted a citizen's call when they spotted a man matching the description they had received — about 4:40 p.m. near East 45th Street and Ascot Avenue in the Central-Alameda area.
When they approached on foot to stop him, "the male turned and pointed a handgun at the officers," and then the man was shot by police, Beck said.
A handgun found at the scene was a replica with its orange tip colored black, the chief said. The man was taken to a hospital, where he died.
The man still has not been identified, Beck said. He has been described only as a Hispanic male between the ages of 18 and 22.
A woman who said she witnessed the shooting said officers gave no commands to the man before firing on him. One officer fired and then a second shot the man multiple times after he fell, said Crystal Peterson, who cried as she described the scene.
Beck said he had watched video from the officers' body cameras, which he said supported the officers' statements. The man was not shot while lying on the ground, as some had claimed, Beck said.
A second person was detained following the shooting, Officer Drake Madison stated at a news conference Sunday night.
Saturday fatal shooting followed short pursuit
The earlier weekend shooting, which has prompted protests, occurred about 28 hours earlier.
Just before 1 p.m. Saturday, Metropolitan Division officers spotted a light-blue Nissan Altima with paper license plates that indicated an incorrect model year, Beck said.
Officers suspected the vehicle, which had at least two people inside, was stolen. They saw a man in the rear seat look in their direction and then duck down, as if to hide, Beck said.
They followed the car, which slowed. Two men ran from the vehicle, according to an LAPD news release.
The man in the back of the car jumped out "holding his waistband as if he was supporting something," Beck said.
On foot, the officers chased the man, later identified as 18-year-old Carnell Snell Jr., some 200 to 300 yards, Beck said.
As the officers ran after Snell, they saw him take a handgun from his waistband and hold it in his left hand, according to Beck.
Snell entered the driveway of a home in the 1700 block of 107th Street — in the Gramercy Park area.
"While holding the handgun in his left hand, he turned in the direction of pursuing officers, at which time an officer-involved shooting occurred," Beck said. "A total of six rounds were fired and Cornell Snell was sent to the pavement."
Paramedics declared the man dead at the scene of the shooting. Snell did not fire, Beck said, and the officers were not injured.
Preliminary indications are that he was shot twice: once in the chest and once in the knee, Beck said.
A semiautomatic, fully loaded 40mm handgun with one round in the chamber was found within 5 feet of Snell's body, Beck said.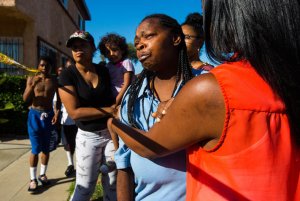 The officers were not wearing body cameras, as their division has not been equipped with them, Beck said. Nor was in-car video recorded, he said.
But a nearby business did capture video that shows Snell had a handgun, the chief said.
Snell's mother, Monique Morgan, was visibly distraught as she told reporters her son was shot five times.
"My daughter got a phone call," she said as she wept. "It said that the police shot him."
Shootings prompt protest
A crowd of demonstrators rallied in South Los Angeles and outside Mayor Eric Garcetti's Hancock Park home Sunday night following the shooting.
Another demonstration occurred at LAPD headquarters in downtown Los Angeles midday Monday. Three people were arrested, including Black Lives Matter co-founder Patrisse Cullors, friends said.
Arrests just made at @LAPDHQ – media forced out, told we would be arrested if we didn't vacate @KTLA 1pm pic.twitter.com/GU2nYKPTpr

— Christina Pascucci (@ChristinaKTLA) October 3, 2016
As with any officer-involved shooting, LAPD's Force Investigation Division will investigate and present its findings to Beck. The chief, along with the Police Commission, will determine whether the officers complied with the department procedures.
The officers' names will be released after Beck receives a more complete briefing and determines they're not being targeted, the chief said.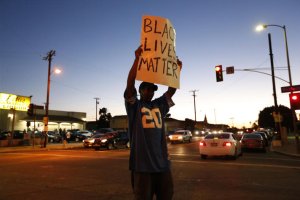 The Los Angeles County District Attorney's Office also plans to review evidence collected during the investigation.
Beck said he was in discussions with District Attorney Jackie Lacey about an appropriate time to release video and other evidence related to the shootings.
Crowds had gathered near the scene of the Saturday shooting and remained there into the evening, but the demonstrations were peaceful. Police monitoring the protest initially wore riot gear, but removed it later.
The Los Angeles incidents follow recent police shootings of black men in El Cajon, California; Tulsa, Oklahoma; and Charlotte, North Carolina. The shooting victims in El Cajon and Tulsa were unarmed, but questions remain on whether the victim in Charlotte had a weapon.
Beck put the weekend shootings in context with those, referring to a national conversation on police and gun violence, as well as the release of video.
"I'm a chief that has always been honest with the public. If I see a shooting that I think is bad, then I say so," Beck said.