This is an archived article and the information in the article may be outdated. Please look at the time stamp on the story to see when it was last updated.
Officers in Northridge were called in Tuesday night to assist in a different kind of police pursuit -- one involving what was described as a runaway miniature horse.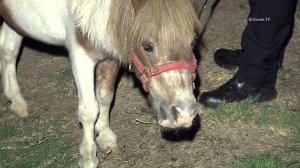 Police received a call around 9:45 p.m. of a horse on the loose in traffic in the area of Reseda Boulevard and Chase Street, according to Officer Jack Richter with the Los Angeles Police Department.
Officers soon had the pony contained and on a leash as they awaited animal control, aerial video from Sky5 showed.
It was not clear who owns the animal.