This is an archived article and the information in the article may be outdated. Please look at the time stamp on the story to see when it was last updated.
Two Los Angeles police officers are being hailed as heroes after saving the life of a 17-month-old boy in South Los Angeles who suffered a seizure and stopped breathing.
Officers Johnny Han and Andres Cardenas were on a routine patrol about 1:30 p.m. Saturday when they saw a vehicle traveling erratically southbound on Broadway, approaching 76th Street (map), the Los Angeles Police Department said in a statement. The location is near the LAPD's 77th Street station in the Florence area of South L.A.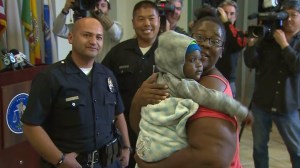 The driver of the vehicle, later identified as Charmaine Gooden, appeared to be driving "in a state of panic," the LAPD said. She told the officers that her son, Javon, was not breathing. Han and Cardenas directed her to pull over, and then quickly exited their patrol car.
Han immediately notified the LAPD's communications division and requested a rescue ambulance from the Los Angeles City Fire Department, authorities said. Meanwhile, Cardenas administered a single chest compression to the toddler, who began to take shallow breaths.
Cardenas "kept the infant calm and continued to monitor his breathing, at the same time the infant began to take hold of Cardenas' finger," the LAPD said.
LAFD paramedics transported Javon to a hospital, where he was initially listed in stable condition. He was treated and later released.
"According to the doctor, the infant suffered an acute life-threatening event," the police statement said.
In an emotional reunion at Tuesday night at the 77th Street Division station, Gooden held Javon in her arms while expressing her gratitude to the two officers.
"Thank you guys, so much, for saving my baby's life," she said, greeting Han and Cardenas with a hug.