This is an archived article and the information in the article may be outdated. Please look at the time stamp on the story to see when it was last updated.
Prosecutors have declined to file criminal charges against three Los Angeles police officers who shot and killed an unarmed man at the end of a televised pursuit in 2013.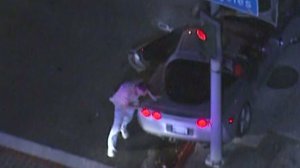 A Jan. 29 letter from Dist. Atty. Jackie Lacey, released Monday, states there was "insufficient evidence to prove beyond a reasonable doubt" that Officers Armando Corral, Leonardo Ortiz and Michael Ayala "did not act in self-defense and in the defense of others" when they fatally shot Brian Beaird, a 51-year-old National Guard veteran.
Beaird led police on a dangerous pursuit across southeast L.A. County and downtown L.A. the night of Dec. 13, 2013, weaving his Corvette in and out of traffic at a high rate of speed.
The pursuit ended when he crashed his sports car into another vehicle in downtown L.A., shearing a fire hydrant and sending water spraying into the air.
FULL COVERAGE: Corvette Pursuits Ends in Fatal Police Shooting Live on TV
Beaird was shot more than a dozen times after he staggered out of his car. His 80-year-old father said he watched the chase live on television, including the moment when his son was killed.
Click here to read the full story on LATimes.com.