This is an archived article and the information in the article may be outdated. Please look at the time stamp on the story to see when it was last updated.
Los Angeles police officials are asking for information about a shooting that left a woman dead and a man injured in Harbor City late last month.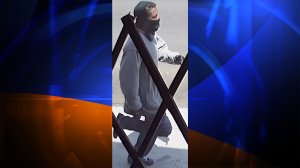 The shooting was reported about 1:50 p.m. on July 29. A man walked through a parking lot of a Pep Boys in the 1300 block of West Pacific Coast Highway and shot several rounds toward a barbecue stand that was set up in the lot.
A 31-year-old woman and a 34-year-old man working at the "Wheaton's Eatins" stand were shot and taken to a hospital, officials said.
Witnesses said that after the woman was shot, the suspect chased after the other victim and shot him in the arm.
The woman died at the hospital and the man was treated for a gunshot wound to his right bicep and was released, police said.
Family and friends later identified the woman as Jennifer Dickerson of Compton.
Her brother, James Dickerson, said Jennifer was an aspiring rapper who was dedicated to her family and working four jobs to launch her music career. She was the oldest sibling of six and had lost a brother in a drive-by-shooting in 2004, James Dickerson said.
"We're hoping she's performing in everyday in heaven now," he said.
The shooter was only described as being a black man, but a photo released by police Wednesday showed the man had something covering his face, possibly a bandana. Police also released a photo of a burgundy GMC Jimmy believed to be driven by the shooter.
Anyone with information can call 310-726-7887 or 310-726-7880.