This is an archived article and the information in the article may be outdated. Please look at the time stamp on the story to see when it was last updated.
A man who was shot and killed by police in downtown Los Angeles Tuesday was armed with a knife and LAPD officials are looking into his possible connection to a woman who was found killed in a nearby apartment building.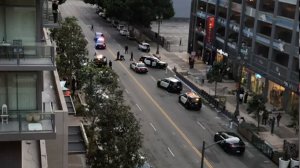 The incident occurred about 4:50 p.m. near the intersection of 11th and Hope streets, police said.
The man was armed with what police described as a large kitchen knife, which was found at the scene, Capt. Andy Neiman said.
An employee at an apartment building in the area said a man with a knife snuck into the building and later ran out chasing a woman into a business across the street. The employee then flagged down police.
Officials confirmed that officers were flagged down and alerted about a man with a knife. Officers confronted the man and at some point an officer-involved shooting occurred and the man was struck, Neiman said.
A witness told KTLA that officers gave the man several warnings and he wouldn't comply. He said police shot the man about four or five times.
The man later died at a hospital.
Shortly after the shooting, a woman alerted authorities that a woman was found in another apartment building in the 1100 block of South Flower Street.
Officers confirmed a woman in her 40s had died there, of an "obvious homicide," Neiman said.
Investigators are now looking into whether there is a connection between the man who was shot and the woman, the captain said.
KTLA's Matt Phillips contributed to this story.