This is an archived article and the information in the article may be outdated. Please look at the time stamp on the story to see when it was last updated.
Police chased a stolen vehicle through surface streets in South Los Angeles early Wednesday afternoon, quickly arresting a driver.
The vehicle was stolen and 77th Division units were in pursuit, Los Angeles Police Department Officer Jack Richter said about 12:30 p.m. He was not certain when the chase began.
At least five patrol cars could be seen following the vehicle as it weaved through traffic.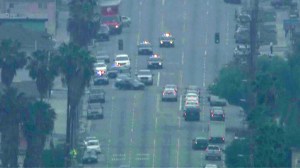 The brief pursuit ended at 76th and Hoover streets about 12:40 p.m.
The green Honda sedan stopped  and officers pulled the driver out of the car and onto the street, where they handcuffed the individual.
The driver appeared from a distance to be male, but Richter later said a female driver was taken into custody in the chase.
#LAPD #pursuit: Please avoid area of Hoover and 76th @LAPD77thSt ofcrs are taking susp into custody. Pursuit terminated.

— LAPD HQ (@LAPDHQ) March 11, 2015
#LAPD #pursuit : Code 4 (Susp in custody) & Hoover & 76th. @LAPD77thSt RE: possible GTA.

— LAPD HQ (@LAPDHQ) March 11, 2015