This is an archived article and the information in the article may be outdated. Please look at the time stamp on the story to see when it was last updated.
A police raid seeking probation violators in the Silver Lake area on Thursday morning was prompted by the continuing search for the killer of an assemblyman's father, multiple sources have told KTLA.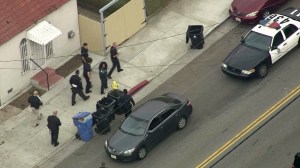 Dozens of officers were targeting ex-convicts with links to past burglaries as part of an effort to find links to a violent home-invasion that left 78-year-old Joseph Gatto, father of Assemblyman Mike Gatto, dead in his Silver Lake home on Nov. 13, 2013.
On Tuesday, authorities had announced a $50,000 reward for information leading to the arrest of those responsible for the death of Gatto, who was found fatally shot in the stomach.
Gatto, a well-regarded former art educator, was also a maker of fine jewelry. Police had previously asked the public for help finding jewelry that could have been stolen from his home on Bright Lane.
At the site of one of the addresses raided Thursday, a resident said police had handed out a flyer showing Gatto's face and listing the $50,000 reward.
Multiple Los Angeles Police Department sources said off the record that the probation raid was a way to net multiple arrests and search for clues related to finding Gatto's killer.
Aerial video showed dozens of officers approaching homes in multiple locations.
LAPD spokesman Richard French did not confirm a connection, only saying that "a bunch of officers" were out in various locations in Los Angeles on Thursday morning "trying to find parole violators." French did not know how many people were arrested during the operation.
A message left for Lt. Walter Teague with Robbery-Homicide Division, who had confirmed the connection on the record to a radio station, was not immediately returned.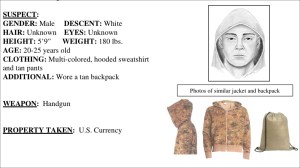 Shortly after Gatto's death, police released a sketch of a man who they said could be linked to the slaying.
On the night Gatto died, a woman said she was threatened by a man with a gun who appeared to be trying to break into cars in the area near Gatto's home — an affluent neighborhood next to Silver Lake Reservoir.
That man's sketch was shown again during a news conference Tuesday at which LAPD, Mayor Eric Garcetti and other officials announced the $50,000 reward.
Anyone with information about this killing has been asked to contact LAPD Detectives Barry Telis or Chris Gable at 213-486-5910. During off-hours, calls may be directed to 877-527-3247.
Those wishing to remain anonymous may call 800-222-8477.  Tipsters may also text 274637 with a cell phone, beginning the message with "LAPD," or go lapdonline.org and click on "Anonymous Web Tips."
KTLA's Christina Pascucci and Melissa Pamer contributed to this report.