This is an archived article and the information in the article may be outdated. Please look at the time stamp on the story to see when it was last updated.
Los Angeles police released a video on Friday of an armed man who allegedly threatened to detonate a bomb during a robbery in Boyle Heights.
The video shows a man dressed in all black with a black face mask enter a jewelry store in the 2200 block of East Cesar Chavez Avenue on May 15 around 2:20 p.m.
The man is shown waving and pointing a black semi-automatic handgun at employees. He allegedly warned them not to activate the alarm or he would detonate a bomb, police said.
The robber allegedly placed an electronic charger on top of a glass display case and directed employees to place jewelry from the case into a bag, according to police.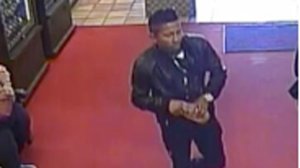 He then fled the store on foot. An initial investigation revealed that the man entered the same store the day before the robbery, posing as a customer, police said.
No employees were injured during the robbery, authorities added.
The robber is described as a 25 to 30-year-old Hispanic man with black hair and black eyes who is 5 feet 7 inches tall and weighs around 110 to-125 pounds.
Anyone with information about the robbery is asked to call the Los Angeles Police Department at 323- 342-8900.