This is an archived article and the information in the article may be outdated. Please look at the time stamp on the story to see when it was last updated.
Police were hoping surveillance videos released on Thursday would lead to the arrest of a man who pulled down the pants and underwear of five women while they were walking out in public in Sherman Oaks and Van Nuys.
The man sexually battered the women in June in an area bordered by Hatteras Street on the north, Morrison Street on the south, Halbrent Avenue on the west and Cedros Avenue on the east, according to a news release from the Los Angeles Police Department.
In each of the incidents, the man targeted women who were walking alone with their dogs in the early morning hours. He made eye contact with the victims while passing them before pulling down their pants and underwear, the release stated.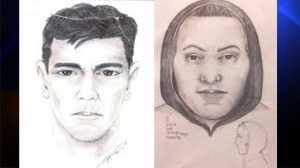 Police described the man as being white or Hispanic, with black or brown hair, brown eyes, standing 5 feet 7 to 5 feet 9 inches tall and weighing between 145 and 160 pounds, according to the release. He was believed to be in his early to mid-20s.
The women called him someone who "blends into the neighborhood not causing any suspicion."
He was seen driving a possible late 1990s model four-door gray Toyota Camry or Ford Taurus, police said.
The public's help was being sought in identifying the man in the surveillance photos.
Anyone with information was asked to call Van Nuys detectives at 818-374-0040 or 877-527-3247.
Those who would like to provide an anonymous tip can do so by contacting Crime Stoppers by phone at 800-222-8477, texting a tip to "274637" with the letters "LAPD" at the beginning, or through the website LAPDOnline.org.