This is an archived article and the information in the article may be outdated. Please look at the time stamp on the story to see when it was last updated.
Hoping to identify a man involved in a Koreatown road rage incident that occurred on May 26, Los Angeles police have released video of the violent altercation.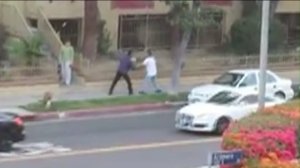 The confrontation began about 7:30 p.m. in a residential area near the intersection of West Fourth Street and South Ardmore Avenue, according to the LAPD.
Footage of the incident, recorded by a witness and made public on Thursday, appears to show two men kicking each other on a sidewalk. One is wearing a white T-shirt and blue jeans, while the other is dressed in black pants and a purple long-sleeve shirt.
A bystander repeatedly tries to separate the two combatants.
The man in white "is seen picking up the other individual and slamming him to the sidewalk, causing him to go unconscious," said Officer Drake Madison of the Los Angeles Police Department. "The suspect is also seen repeatedly slamming the person's head into the sidewalk."
The man in purple underwent surgery after suffering a skull fracture and internal bleeding, and was unable to recall the episode, Madison said.
Afterward, the man in white "just casually walked to his car," which was double-parked on Fourth Street, the officer added. He then fled westbound in the vehicle, toward Kingsley Drive.
He was described as Asian, possibly Korean, in his mid-to-late 30s, about 5 feet 8 inches tall and 180 pounds, with black hair, wearing black shoes and a black baseball cap. His vehicle was said to be a white four-door Volvo with a damaged rear brake light.
Anyone with information was asked to call Officer Ill S. Lee, of the LAPD's Asian Gang Unit, at 213-486-4762. During weekends and non-business hours, tipsters can call 877-527-3247.