This is an archived article and the information in the article may be outdated. Please look at the time stamp on the story to see when it was last updated.
The Tom Bradley International Terminal at LAX was temporarily evacuated after a telephoned bomb threat on Thursday afternoon, authorities said.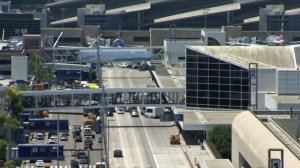 Officers were called to the scene at noon, Los Angeles Police Department Officer Joel Morales said.
Photos posted to Twitter showed armed officers inside of the terminal.
The international terminal was evacuated after officers found a package based on a phone threat, according to Bruce Borihanh of LAPD. Within minutes, the situation concluded safely, he said.
Sgt. Belinda Nettles of the Los Angeles Airport Police Department later said in an email that a "nonspecific bomb threat" mentioned an "undetermined location" at the Tom Bradley terminal.
Nothing was found and operations were returned to normal, a spokeswoman for the airport said.
Traffic was temporarily diverted from the upper level of the terminal due to the police activity, according to the airport Police Department's Twitter account.
About 3 p.m. Thursday, President Barack Obama was slated to fly out of LAX to return to Washington after a two-day trip to Los Angeles.
Due to police activity, #laxtraffic diversion in progress at Tom Bradley, use lower level traffic lanes to access the terminal.

— LA Airport PD (@LAAirportPD) July 24, 2014