This is an archived article and the information in the article may be outdated. Please look at the time stamp on the story to see when it was last updated.
The Westfield Century City shopping center has reopened following an evacuation triggered by a suspicious package later deemed safe and reports of a gunman who was never found Friday afternoon, authorities said.
Despite initial reports of an armed man, LAPD officials later said they were responding to a package inside the Amazon store. Authorities have since said there was no evidence of an active shooter, no injuries have been reported and the package was inspected and determined to not be a threat.
But police released a photo Friday night of a man they were seeking as an "arson" and "assault with a deadly weapon" suspect.
He was described as possibly Latino or Asian, between 20 and 35 years old, about 5 feet 9 inches tall and 140 pounds. "He is to be considered armed & dangerous," police said in a wanted bulletin.
Arson/Assault With A Deadly Weapon suspect from the Century City Mall incident. Male, possibly Hispanic or Asian, 20-25 years old, 5'8" to 5'10", 130-150 lbs. He is to be considered armed & dangerous. If seen, do not approach & call 911. Any info contact Major Crimes 213-486-7260 pic.twitter.com/J6ydu3TsVG

— LAPD HQ (@LAPDHQ) March 16, 2019
Those who were evacuated after being told to shelter in place earlier were being allowed back in by 5:30 p.m. after police were first called to the scene shortly before 1 p.m. Many evacuees had been stuck outside the mall as police continued clearing the scene.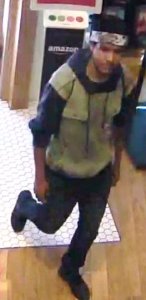 Traffic in the area was heavily congested in the following hours as a stretch of Santa Monica Boulevard running eastbound from the mall was shut down.
Officers were called to the scene at 12:42 p.m., police said, and aerial footage from Sky5 showed several patrol cars parked outside the retail center as people piled onto sidewalks and some could be seen filing out of the Westfield shopping center. Others were seen running from the mall as police first arrived, according to LAPD.
Those still inside were told to "remain calm and shelter in place" in a tweet from LAPD at 1:36 p.m. LAPD officials later said just after 2:30 p.m. that they could begin leaving the mall.
By 3:15 p.m., authorities said those still sheltered in place were being evaluated by officers.
Many had self-evacuated before the shelter-in-place orders were issued and others left at the direction of law enforcement. Employees, shoppers and others remained evacuated from the mall by 3:30 p.m. At the time, dozens of people were still standing outside the shopping center — unable to get their vehicles out of the parking garage as authorities said officers were still clearing the scene.
Earlier in the afternoon, police officers conducting a search of the mall were told by a security guard that he had not heard any gunshots or located any victims.
As officers continued searching the location, they were directed toward an allegedly suspicious package inside the Amazon store, police said. Investigators with LAPD's bomb squad and L.A. County firefighters were dispatched to the scene "in an abundance of caution," according to police.
Ian Linares, one witness, told KTLA he saw a small fire erupt at the store and a female employee told him there was a man with a gun who ran off.
"So the assumption is that the gunman had started the fire but I don't know any more than that," Linares said.
Authorities have not confirmed there was a fire, and no gunman was found in the hours afterward. But Linares said he helped the employee put out the fire with an extinguisher she brought from the back of the store.
Update: Please Be Patient In/Around The Century City Mall. No Active Shooter at the time, however the officers are at scene investigating a suspicious package in the mall and need to ensure safety to all. Please be careful and respectful to each other and let's all Be Safe! https://t.co/jSB6JHXaoN

— LAPD West LosAngeles (@LAPDWestLA) March 15, 2019
Less than a mile away, Beverly Hills High School went on lockdown as a result of the police response at the mall, authorities said. But the order was later lifted and parents were told to pick up their children from the campus, according to the Beverly Hills Police Department.
Dozens of Twitter users posted saying the mall was being evacuated, with many speculating about a possible active shooter.
Another witness, Jason Giaquimca, said he was in a changing room inside Macy's when store employees told everyone there was a shooter. Three hours after police arrived, he was still waiting outside the mall wearing the same dress shirt he was trying on earlier.
"I hear all the workers coming down — they're telling us to get out, (that) there's an active shooter at the site," Giaquimca said. "I was freaked out … all these shootings happening all over the world, all over the country especially. It's not something you wanna be wrapped up in."
More than three hours after police first responded, no evidence of a shooting had been found, LAPD officials said.
#BREAKING: LAPD is responding to reports of a man with a gun inside the Westfield Century City Mall. Officials are working to determine the validity of the call, Sky5 is overhead https://t.co/x8PRdvOALf pic.twitter.com/2uOyEupJhU

— KTLA (@KTLA) March 15, 2019
Video from one Twitter user claiming to be at the mall appeared to show a uniformed police officer armed with a gun standing just outside the glass windows of a business. Another clip appeared to show a group of people near the Michael Kors store being instructed by an officer to leave.
No other details have been released by law enforcement officials.
Active shooter at the mall in LA pic.twitter.com/DgTZqI9rlP

— Plotagraph (@plotagraph) March 15, 2019
Cops@telling us to leave. Someone with a gun. Century city mall. @FoxNews @cbs2kcal9brk pic.twitter.com/CyA0UfJVu6

— Amit (@amitcohen79) March 15, 2019
UPDATE: Century City Mall customers & employees are able to return and retrieve their cars and personal property left behind, but the stores will be closed for business until tomorrow. Thank you again for your patience and cooperation.

— LAPD HQ (@LAPDHQ) March 16, 2019
KTLA's Jennifer Thang contributed to this report.