This is an archived article and the information in the article may be outdated. Please look at the time stamp on the story to see when it was last updated.
A suspected gunman surrendered to officials after barricading himself inside a South Los Angeles home Tuesday afternoon.
Authorities initially responded to a report of shots fired about 4:40 p.m. at a house in the 1300 block of East 27th Street, according L.A. Police Officer Tony Im.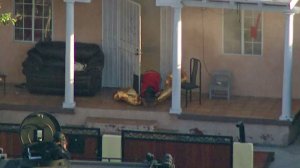 Im told KTLA a man called police and reported his roommate fired three shots inside of their residence then ran out.
There were no reports of injuries.
Aerial images from Sky5 showed a heavy police presence, including a SWAT team outside of the home.
The suspect was barricaded inside the home when law enforcement arrived.
Just before 7 p.m., SWAT officials deployed gas into the residence in an apparent attempt to coax him out.
Preliminary investigation indicated he fired multiple shots, but no one was struck, police said.
About 10 minutes later, the man crawled out the front door with two mylar balloons and surrendered to authorities. He was then handcuffed and loaded into a police vehicle.
No other information was immediately released.
KTLA's Nidia Becerra contributed to this report.
The suspect has been taken into custody by LAPD SWAT. The preliminary information is that he fired multiple shots during the incident, but fortunately we have no reports of any shooting victims or injured officers.

— LAPD HQ (@LAPDHQ) July 3, 2019